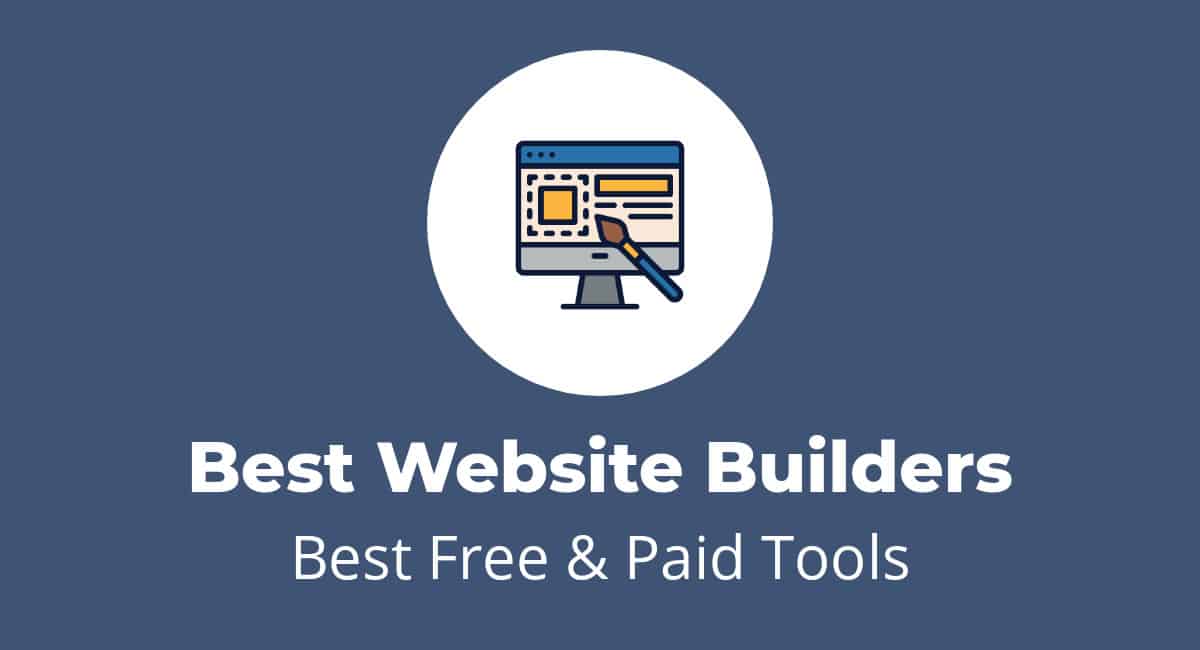 The Rundown
Best Overall: Wix
Our top pick for the best overall website builder is Wix, with their powerful site builder that's also exceedingly easy to pick up and learn. Wix provides the best mix of ease-of-use, and customization, so it's a great choice regardless of the type of website that you need to build.
Wix isn't a traditional web host, which is why it scores poorly when measured against full-service hosts. It's more of a hosted site builder, so you will want to stay away from this one if you need a real web host. If you don't care about the back end and just want to build a site that's both beautiful and functional, Wix is what you're looking for.
Since Wix is a hosted website builder, you pay one fee for both hosting and their site builder. They have a free plan, but it places strict limits on bandwidth and doesn't let you use your own domain. Their premium plans are on the pricey side, but they're worth it if you want a truly top of the line website builder.
The Wix site builder starts with templates, like a lot of site builders, but they add in dozens of free and paid apps that you can use to expand the functionality of your website. Some fantastic add-ons include a forum app, a Facebook comments app, a booking app, and even a restaurant app that allows customers to place orders.Wix Review
Best for Beginners: SiteBuilder
SiteBuilder takes our pick for the best website builder for beginners due to its easy interface and basic functionality. Advanced users will have to look elsewhere, as SiteBuilder doesn't have the best customization options, but this is a fantastic place to start if you've never built a website before.
The best thing about SiteBuilder is that they've got you covered from start to finish. They provide a free domain name when you sign up, and you also get web hosting, so you don't have to worry about installing your own site builder software on separate web hosting.
Building a site on SiteBuilder is about as easy as it gets. First, you select a template and customize it with your website name. Then you select a domain, which they provide for free. Finally, you publish your site to the web.
SiteBuilder supports a lot of basic functionality too, like running a blog, setting up email addresses using your custom domain, and even adding an e-commerce store to your site.
Best for Budgets: HostGator
If you're trying to build a great website on a budget, you need to check out HostGator. This full-service web host offers very affordable shared hosting plans that include full access to their fantastic Gator website builder.
HostGator's cheapest plan that includes access to their Gator site builder costs less than $4 per month, and includes a free domain, unlimited storage, unlimited bandwidth, and an unlimited number of pages. Considering that some cheap website builders limit you to as few as five pages, that's a fantastic deal.
Creating your own site with HostGator's site builder starts with selecting a template from hundreds of choices, and then transitions to a simple drag-and-drop editor. You can set up pages with a variety of text elements, embed video, add social buttons and live feeds from your Twitter, YouTube, Facebook or Instagram, and even limited ecommerce features like PayPal buttons.
Interested in more budget-friendly options? Check out our roundup of the best cheap website builders.Hostgator Web Hosting Review
Best for WordPress: Beaver Builder
Beaver Builder is our pick for the best WordPress website builder. It's a premium WordPress plugin, so you have to find WordPress hosting elsewhere, purchase Beaver Builder, and then add it to your WordPress site. Once it's installed, Beaver Builder adds an easy drag-and-drop interface to customize your WordPress site any way you like.
WordPress is a fantastic platform for blogging, and it's flexible enough to build all sorts of sites. The problem is that customizing WordPress can be difficult for beginners. If you don't have the time to spend learning how to build a site with WordPress, Beaver Builder is a plugin that does all the hard work for you.
Beaver Builder comes with a bunch of templates that you can use to get started, and the drag-and-drop interface makes it easy to build your website from the ground up if you prefer. Simply drag elements like content blocks, sliders, and buttons from the sidebar, place them wherever you want, and watch as your website updates in real time.
Best for E-Commerce: BigCommerce
Building an e-commerce site can be complicated and difficult, especially if you don't have any prior website design experience. BigCommerce takes all the difficulty out of the equation with a fantastic site builder and an excellent e-commerce backend. If you need to build an e-commerce site without any prior experience, BigCommerce is exactly what you need.
BigCommerce is a fully hosted e-commerce solution, which means they take care of all the heavy lifting for you. They provide the web hosting service, a great site builder to craft your e-commerce site from the ground up, payment processing, and all the hooks you need to list your products on third party sites like Amazon.
When you dig into the BigCommerce site builder, you can choose from a number of free themes, or pay extra to select from a much larger library, all of which are responsive and look great on both mobile and desktop. You can start entering your products once you've chosen your theme or use the site builder to further customize your site.
Best for Small Businesses: Squarespace
Our pick for the best website builder for small businesses is Squarespace, which provides a nice cross-section of important features along with a great site builder. Their website builder includes a bunch of professional templates to get you started, so this is a great choice for a wide range of businesses.
The best thing about Squarespace is that their builder helps you quickly assemble professional-looking websites without the cost of hiring a web designer. The builder includes several layout options, including cover pages, single-scrolling pages, product pages, and even a quick view function, making it easy to set up a page that looks and works great even if you have no prior web design experience.
Squarespace can handle e-commerce sites, but it has a much broader focus than that. You may want to take a look at our pick for the best e-commerce site builder if that's the type of site you need to build, but Squarespace is strong enough in that category to handle basic online stores.
Best Free Website Builder: Weebly
Our pick for the best free website builder is Weebly due to their generous storage and bandwidth limits. Their free plan doesn't allow you to use your own custom domain, but you do get access to the fantastic Weebly website builder, and they don't place harsh limits on the number of pages you can build.
Their free plan comes with 500 MB of storage, no limitation on bandwidth, and even access to basic e-commerce features. The site builder uses a drag-and-drop interface that's very easy to pick up and learn, which makes this a great choice if you have no prior website experience.
Like we mentioned above, the biggest catch with the free Weebly plan is that you can't use your own custom domain. Your site will have a subdomain of their main site, (i.e. yoursite.weebly.com) unless you upgrade to a paid version of the service. They also place a small Weebly logo on free sites.
Best for Artist Portfolios: Format
Artists, illustrators, photographers, fashion designers, and even videographers looking to build a portfolio site need look no further than Format. With both hosting and a site builder that's laser-focused on portfolio creation, Format makes it easy for artists of all kinds to get their work out there in front of a worldwide audience.
Whether you're an independent artist or you're looking for a full-time gig, a professional online portfolio is the best way to give prospective employers an idea of what you can really do. Most inexpensive shared hosting services can get the job done if you're willing to put in the work, but Format makes it easy.
Format has hosting plans for everyone, including an inexpensive option for hobbyists that allows you to upload 100 images, and a professional plan that lets you upload as many images as you want. Additional features of the professional plan include Adobe Lightroom integration, image proofing, and protection, and they'll even have an expert from their staff set your site up for you.