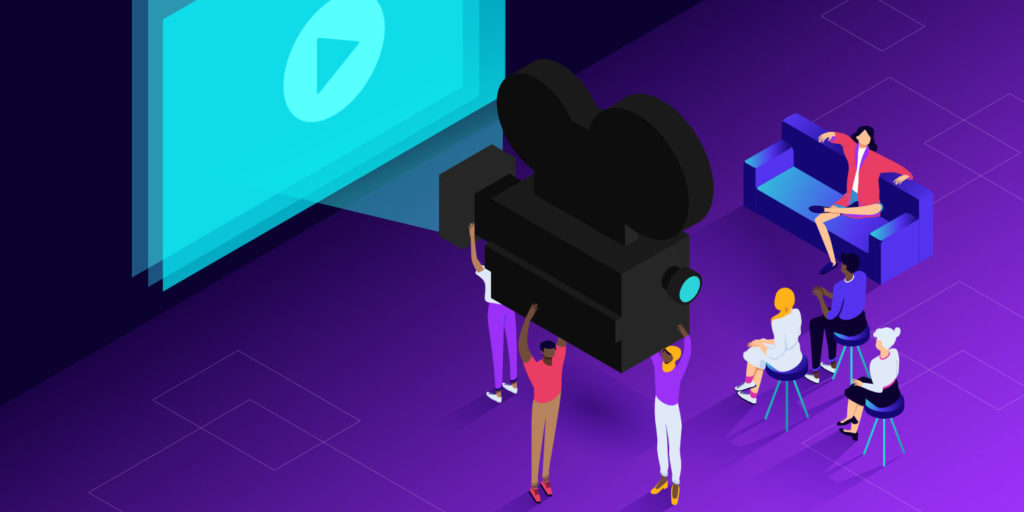 Our Top Picks
Best Overall: YouTube
"If you want to get more hits, then YouTube is your best shot."
Best for Business: Vimeo
"Vimeo aims for a more professional clientele."
Best for Powerful Analytics: Wistia
"Wistia really shines … through their enhanced analytics"
Best for Lightning-Fast Speeds: Brightcove
"Brightcove assists their clients with marketing and finding ways to make money off their videos."
Best for Creative Types: DailyMotion
"There is no fuss with DailyMotion, and that means it's easy to get started and use."
Best for Sales and Marketing Videos: Vidyard
"Vidyard is a heavy hitter with resources to back it up"
Best for SEO: SproutVideo
"One of the most secure and dependable video hosting platforms anywhere."
Best for Social Media: Facebook
"You can't lose using one of the largest social media websites on the planet!"
Best Overall: YouTube
YouTube takes our top recommendation for the best overall video hosting site, and this wasn't even a close one. It has over 2 billion users, providing a massive audience reach, and it's backed by the indisputable power of Google, which gives its content premier slots and high ranking in search engines.
If you want your videos to to get as many views as possible, then you need to be on YouTube. Some other great reasons to choose this platform is the massive music library that you can use to add sound to your videos, and statistics so you can monitor your audience engagement.
Then, of course, there's the most important factor of all: you get free unlimited video hosting forever. Upload to YouTube, allow them to eat the cost of bandwidth, and you can embed your videos on your own site, social media, or anywhere else.
YouTube also includes built-in ads so you can earn money on your videos. Unlike sites that charge you to upload your videos, you can literally earn money by uploading to YouTube if your content proves popular.
Best for Business: Vimeo
Vimeo is designed for businesses and creative types, offering ad-free videos to share on social media or through your website. It isn't free, but it does provide an excellent level of service, which is why it's our choice for the best video hose for businesses.
The only caveat with Vimeo is that you need to pay for a premium plan to ensure you have enough storage, but paying also grants you access to features like customizing your player, privacy controls, and social media integration.
Another great feature provided by Vimeo is the ability to generate private links to share video with certain people but keep them out of the public eye. Vimeo is touted as one of the most secure video hosting sites around for a reason.
With support for 4K video and unlimited bandwidth, you can't go wrong using Vimeo to host your professional or artistic video offerings. Vimeo makes it easy to embed video anywhere using a snippet of shortcode, and many popular CMS systems support Vimeo integration natively. 
Although you are paying for video hosting service, the look and feel of Vimeo is simply a class above, and plans are quite affordable, ranging from $7 to $75 per month depending on your needs. There is a free version you can use, but it's typically too limited for most business users.
Best for Powerful Analytics: Wistia
Wistia is another widely used video hosting provider with an excellent interface. It's a great overall video hosting service, but we especially appreciate their in-depth analytics. If you want advanced information about your viewers and the way they interact with your content, this is the way to go.
Where Wistia really shines though is through their enhanced analytics. This video sharing platform provides heat mapping, viewer graphs, and engagement statistics to help you target your audience more effectively. You can even use A/B testing to see which videos get the best response from your viewers. A Wistia channel is also available with the highest-tier plan.
They do have a free video-hosting plan, but you are limited to 3 videos, and they cap your bandwidth at 250GB. If you go over your bandwidth allotment, it can get pricey quick, so you will need to keep an eye on usage.
The paid plans range from $99 to $399 per month with an option to add more videos at 25 cents each. The benefits of a paid plan are Wistia branding is removed, a fully customizable player is available, and you're able to embed your videos in social media and web pages, as well as fully integrate with HubSpot, Pardot, Marketo, MailChimp, and WordPress. You can also set up as many users with passwords as you want for your account.
Best for Lightning-Fast Speeds: Brightcove
Brightcove was founded in 2004 by serious video lovers, and the platform is geared towards hosting OTT video for streaming and for monetizing video content with ads and calls to action. Between their own proprietary HTML5 player and snappy speeds, it's easy to see why Brightcove is our top pick for fastest video host.
Not only does Brightcove offer video hosting, but they also assist their clients with marketing and finding ways to make money off their videos. This particular video hosting provider is really for high-end businesses, marketers, enterprises, and publishers and not a great fit for the average website owner.
They offer scalable packages, but pricing is a factor, and it's not cheap. However, they provide outstanding analytics, premier video management, galleries, social media integration, transcoding, and a whole host of other very high-end features for big clients.
The key here is that they offer lightning-fast speeds, which is coupled with comparatively large price tags. With pricing that starts at $199 per month, Brightcove is a serious offering for high-end business clients with voluminous video storage and streaming needs.
Best for Creative Types: DailyMotion
Creative types will love DailyMotion, which is why it takes our top recommendation for the creative set. Whether you've been on the hunt for the perfect video podcast hosting sites, or you just want an alternative to YouTube that works just as well, DailyMotion won't let you down.
Dailymotion makes it easy for creatives to set up partner accounts and start uploading videos. Partners are able to upload unlimited videos and consume unlimited bandwidth. The catch is that viewers are restricted to two hours per day of watching.
One nice feature is that DailyMotion also makes it very easy to earn money monetizing through the use of ads, and you can easily edit your videos to add music, text, and titles. You can turn comments on or off with ease, and their free plan allows you to upload up to 96 videos per day.
The interface is simple and resembles a YouTube page with similar options and features. There is no fuss with DailyMotion, and that means it's easy to get started and use.
Best for Sales and Marketing Videos: Vidyard
Vidyard is primarily a sales and marketing video hosting service, and their unique set of features makes this an easy choice for the best video hosting site for sales and marketing. This platform automatically adds calls to action to your videos to help drive traffic and secure leads for your sales funnel.
Vidyard is a heavy hitter with resources to back it up, and they provide a variety of hosting packages geared towards marketing, sales, and security. They offer a free demo to preview the service before buying. There are free plans available, but the highest-tier packages are priced by quote only. Their advertised price list range from $15 per month up to $1250 before you get into custom packages.
Some of the nicest features are personalized videos and live streaming. The advanced analytics help even novice users drive traffic and sales by strategically altering their marketing plans. They also provide SEO assistance and allow users to set up their own customized channels. The Vidyard platform offers a plethora of sales and marketing assistance, tutorials, video help, customer support, FAQs, and an extensive knowledge base.
Best for SEO: SproutVideo
SproutVideo prides itself on being one of the most secure and dependable video hosting platforms anywhere. To sweeten the pot, they added in great SEO tools, support for 8K video, and powerful analytics, combined with a simple and easy-to-use interface, which is why we chose them for the best video host for SEO.
Teams and business collaborators will love this video hosting option. They pack a lot into their paid plans, including administrator controls, an audit log, role-based permissions, two-factor authentication to keep things extra safe, geo-restriction, single sign-on, bulk uploading, and even folders to keep all your videos nicely organized. Their storage and bandwidth options are very comfortable, as well.
Another nice feature of the SproutVideo platform is that they provide some fantastic themes that you can use to enhance your videos. They also offer a treasure trove of sophisticated marketing tools as well. If you are concerned about security or team collaboration, SproutVideo is an excellent service to consider. Prices range from $24.99 to $499.99 per month.
Best for Social Media: Facebook
Facebook is a social media site that you probably associate more with old memes and pictures of your friends' pets or kids, but it's a remarkably useful tool for hosting and sharing video in the social space. That's why we're giving it the nod for the best social media video hosting site.
Although many people prefer image and video hosting sites such as Flickr and Imgur, you can't beat Facebook for hosting free, large videos. In fact, you can upload videos to Facebook that are up to 240 minutes long. If you have a Facebook page with followers, posting your videos there is an easy way to connect with your existing social media audience.
Facebook also allows you to embed your videos in other digital mediums such as WordPress, other websites, and even other social media sites. And if you really want to take things to the next level, you can even use your hosted video in a Facebook ad to attract even more followers.
One of the most interesting things about Facebook as a video hosting platform is that you can get very specific about your audience with Facebook ads and control exactly who gets to share your videos.
One of the most appealing features is to live stream video using Facebook Live so your audience can share your up-to-the-minute experiences. You can also customize videos with comments, tags, links, and even calls to action.